My Work in surface chemistry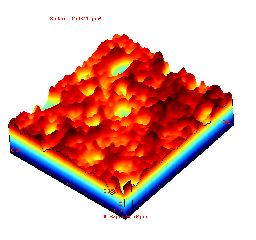 The laser scanning microscope topographic picture shows a porous paper surface.
After gaining a Swiss professional certificate as a chemistry lab technician I gathered more than 15 years of experience in the fields of asbestos replacement, concrete, floculation chemistry, plastics and rubber development, pigment and paper chemistry. Currently I'm working as a research scientist with the world's leading producer of natural calcium carbonatDue to outstanding studies I was offered, in 1998, a post experience research studentship (part-time) at the University of Plymouth (UK) in the Department of Environmental Sciences . The initial MPhil research was upgraded to a direct PhD approach and completed in 2002. My research interests are liquid wetting and spreading phenomena, transport into porous structures, especially related to paper printing applications, but also in relation to pharmacology, waste-water treatment and the manufacture of nano-composites. Furthermore I am interested in visco-elastic interactions and rheological characterisation.

I conduct a research group of 10 scientists and assistants dealing also with product development and basic research for talc and calcium carbonates.
I have presented my work on many international conferences and published in more than 30 reviewed papers.(see below)

Regularyly I am invited for lectures at KTH University in Stockholm.

Publications, attended conferences and professional activities...
"Chemische Verfahrenstechnik der Papierfabrikation, Einsatz und Wirkungsweise chemischer Hilsmittel", (Chemical engineering in paper manufacturing), PTS-PTI-Seminar 1-2. Feb. 1994, München

"Formation of High Performance Teams", workshop with Dr. Gudrun Fey, CareerTrack International, March 1996, Zürich

"Kreatives Denken" (think creative!), workshop with Karl Kälin, 6-7. May 1996, Oftringen

"Wechselwirkung zwischen Druckfarbe und Papier (Ink / paper interactions) PTS-Seminar 21-22. April 1997, München

Wetting and Flow in Porous Media – Fundamental Concepts and Industrial Perspectives, Sept. 10-12 1998, Ütö, Stockholm, Sweden.

Seminar SCA Graphics Research Centre, Sept. 9 1998, Sundsvall, Sweden. Oral presentation.

International Symposium on Paper Coating Coverage- Visions for Coating Development
Feb. 16-17 1999, Helsinki.

Tappi Advanced Coating Fundamentals Symposium April 30 – May 1, 1999 Toronto. Oral presentation.

Tappi Coating Conference, May 2-5 1999, Toronto.

Research seminar (Env. Sci.) - Cleaner technology: wetting of paper coating formulations, University of Plymouth, Nov. 26 1999. Oral presentation

International PhD Programme in Pulp and Paper Science and Technology (PaPSaT), January 10-14. 2000. Invited lecture, Åbo Akademi, Turku, Finland.

2000 Tappi Metered Size Press Forum, III, April, 27-29, 2000, Washington D.C.

TAPPI Coating Conference May 1-4 , 2000, Washington D.C.

International Workshop - Wetting: from microscopic origins to industrial applications, May 6-12, 2000, Hyeres France. Poster presentation.

Paper Coating Chemistry Symposium, Stockholm June 6-8, 2000. Oral presentation.

27th IARIGAI Research Conference, Advances in Paper and Board Performance, September 10-13. 2000, Graz, Austria.

2000 International Printing & Graphic Arts Conference, October 1-4, 2000, Savannah GA. Oral presentation.

Tappi Advanced Coating Fundamentals Symposium May 4-5, 2001, San Diego. Oral presentation.

TRI/Princeton International Workshop - "Nanocapillarity: Wetting of Heterogeneous Surfaces and Porous Solids", June 25-27, 2001, Princeton, NJ. Poster presentation.

12th Symposium "The Science of Papermaking", Keble College, Oxford, September 16-21, 2001

3rd International Symposium on Contact Angle, Wettability and Adhesion, Providence, Rhode Island, May 20-22 2002

2002 International Printing & Graphic Arts Conference, Bordeaux, October 1-3, oral presentation
Syposium in Memory of Dr. Bernie Miller, Princeton, November 20-21 2002, oral presentation

Postgradual course in Pigment Coating Technology, Abo Akademi Finland, February 10-14, 2003
invited lectures.

Paper Surfaces – Characterization and Properties, Forest Products Industry Research College (FPIRC), KTH Ph D course, Stockholm, April 8 2003, invited lecture.

8th Advanced Coating Fundamentals Symposium, Sheraton Chicago, May 7-10, 2003, oral presentation.

Zellcheming 98. Hauptversammlung, Wiesbaden, June 16-19, oral presentation

30th IARIGAI Research Conference" in Dubrovnik, Croatia, September 7-10 2003.

STFI, Paper surface chemistry and offset printability, Hotel Tulip Inn Brussels Boulevard
Brussels, Belgium November 24–27, 2003, invited lecture.

PTS-Seminar Optimierung der Streichtechnik Teil 2: Optimale Bedruckbarkeit, München 25.11.-26.11.2003, invited lecture.

TAPPI Coating and Graphic Arts Conference & Exhibit Baltimore Convention Center Baltimore, MD USA, May 16-19, 2004.

International Printing & Graphic Arts Conference Hotel Vancouver, Vancouver BC, Canada October, 4-7.
Management Training with Andre Kindhauser, including Insights® Discovery test, Leonardo 2-3-4 test, communication, team-building and leadership training in Conference Hotel Urs und Victor, Bettlach. 26.10.- 27.10., 09.11. - 10.11., 01.12. - 02.12.2004

Other professional activities

· 1999, Digital printing training and project specialising in Ink-Jet coatings and pigment development.
· 1999, Rheology training, complex modulus analysis under oscillatory stress with projects specialising in mineral slurries and paper coating suspensions.
· 2000, Modelling pore volume of idealised structures - seminar and contribution to microscopy studies (joint programme with Assoc. Prof. Dr. Martti Toivakka, Åbo Akademi, Finland and Dr. P.A.C. Gane, Omya AG).
· 2000, Involvement in joint research project "Improving Printability of matt-coated papers" YKI (Institute for Surface Chemistry), Dr. J. Grön, Prof. Dr. F. Tiberg, Stockholm, Sweden and Dr. P.A.C. Gane, Omya AG.
· 2000, Advisory capacity in joint research project, "Chromatographic behaviour in Paper Printing Liquid Absorption" with S. Rousu and Prof. D. Eklund, Åbo Akademi, Finland and Dr. P.A.C. Gane, Omya AG.
· 2000, Advisory capacity in joint research project "Preparation of micro particles with high refractive index and studies of optical properties" with IPCMS (Institut de Physique et Chimie des Materiaux de Strasbourg, France, Prof. Dr. S.Vilminot and Prof. Dr. Ch. Hirlimann, Dr. H. Parant, Omya SA, Drs. D.C. Spielmann and P.A.C. Gane, Omya AG).
· 2001, Joint research project : DSC probing of preferred pore sizes in liquid imbibition with Helsinki University of Technoology, Prof. Dr. H. Paulupuuro and Prof. Dr. J Laine, Dr. P.A.C. Gane, Omya AG.
· 2001, TEKES Research programme, cooperation with Prof.K. Lumme, Observatory of Helsinki University and Dr. Esko I. Kauppinen from Aerosol Technology Group of VTT Chemical Technology in Helsinki.
· 2001, Involvement in joint research project "Dry Coating for paper" with KCL Finland, Dr. M Väha –Nissi and BASF Ludwigshafen, Dr. J. Schmitt-Thümmes, Dr.A. Pfau, Dr. H. Kröner, Dr. W. Gaschler, Dr.V Schädler, Dr. K.H. Etzbach, und Omya AG, Dr. P.A.C. Gane, Dr. D.Spielmann.
· 2003, Involvement in confidential joint research project "Spray coating for paper" with the companies Latexia, Stora Enso, Metso and Omya.
· Since 2003 industrial supervision of PhD student Viveva Wallqvist at YKI Stockholm
· 2004 TEKES Research programme, cooperation with Prof.M. Toivakka , Åbo Akademi, Finland
· 2004 Research Cooperation "Thermo capacity and conductivity of pigment-binder structures" with Prof. Doug Bousfield, University of Maine

Membership of Professional Organisations
· Since 2000 - Member of the TAPPI Coating Fundamentals CIG
· Since 2006 - Member of the TAPPI Coating Fundamentals Commitee


Publications
[6,20,3,16,2,14,10,17,7,9,11,15,13,18,12,1,19,4,5,8]

1. Matthews, G. P., Ridgway, C. J., Gane, P. A. C., and Schoelkopf, J., "Simulation of the wetting characteristics of meso- and macro-porous substrates", COPS V, Dechema 1998,
2. Gane, P. A. C., Schoelkopf, J., Spielmann, D. C, Matthews, G. P., and Ridgway, C. J., "Observing fluid transport into porous coating structures: some novel findings", Tappi Advanced Coating Fundamentals Symposium, Tappi Press, Atlanta, 1999, p213-236
3. Gane, P. A. C., Schoelkopf, J., Spielmann, D. C., Matthews, G. P., and Ridgway, C. J., "Observing fluid transport into porous coating structures: some novel findings", Tappi Advanced Coating Fundamentals Symposium April 29-May 1, Toronto, Canada, Sheraton Centre, Tappi Press, 1999, p213-236
4. Schoelkopf, J., Ridgway, C. J., Gane, P. A. C., Matthews, G. P. and Spielmann, D. C, "Measurement and Network Modelling of Liquid Permeation into Compacted Mineral Blocks", Journal of Colloid and Interface Science, 227(1), 2000, p119-131
5. Schoelkopf, J., Gane, P. A. C., Ridgway, C. J. and Matthews, G. P., "Influence of Inertia on Liquid Absorption into Paper Coating Structures", Nordic Pulp and Paper Research Journal, 15(5), 2000, p422-430
6. Gane, P. A. C., Schoelkopf, J., and Matthews, G. P., "Coating Imbibition Rate Studies of Offset Inks: A Novel Determination of Ink-on-Paper Viscosity and Solids Concentration using the Ink Tack Force-Time Integral", 2000 Tappi International Printing & Graphic Arts Conference, Savannah, GA, Tappi Press, Atlanta, 3-10-2000, p71-88
7. Gane, P. A. C., Schoelkopf, J., Spielmann, D. C., Matthews, G. P. and Ridgway, C. J., "Fluid Transport into Porous Coating Structures: Some Novel Findings", Tappi Journal, 83(5), 2000, p77-78
8. Schoelkopf, J., Ridgway, C. J., Gane, P. A. C., Matthews, G. P. and Spielmann, D. C., "Measurement and Network Modeling of Liquid Permeation into Compacted Mineral Blocks", Journal of Colloid and Interface Science, 227, 2000, p119-131
9. Ridgway, C. J., Schoelkopf, J., Matthews, G. P., Gane, P. A. C. and James, P. W., "The Effects of Void Geometry and Contact Angle on the Absorption of Liquids into Porous Calcium Carbonate Structures", Journal of Colloid and Interface Science, 239(2), 2001, p417-431
10. Schoelkopf, J., Gane, P. A. C., Ridgway, C. J., Spielmann, D. C., and Matthews, G. P., "Rate of vehicle removal from offset inks: a gravimetric determination of the imbibition behaviour of pigmented coating structures", Tappi 2001 Advanced Coating Fundamentals Symposium Proceedings, San Diego, Tappi, Atlanta, 2001, p1-18
11. Ridgway, C. J., Gane, P. A. C. and Schoelkopf, J., "Effect of Capillary Element Aspect Ratio on the Dynamic Imbibition With Porous Networks", Journal of Colloid and Interface Science, 252, 2002, p373-382
12. Schoelkopf, J., Gane, P. A. C., Ridgway, C. J. and Matthews, G. P., "Practical Observation of Deviation From Lucas-Washburn Scaling in Porous Media", Colloids and Surfaces A: Physicochemical and Engineering Aspects, 206(1-3), 2002, p445-454
13. Schoelkopf, J., Gane, P. A. C., and Fischer, S., "Determination of elongational strain during ink-on-paper tack measurement: a novel technique to measure work of cohesion and adhesion of thin films", 11th International Printing and Graphic Arts Conference, Bordeaux, ATIP, Bordeaux, 2002, p
14. Ridgway, C. J., Schoelkopf, J. and Gane, P. A. C., "A New Method for Measuring the Liquid Permeability of Coated and Uncoated Papers and Boards", Nordic Pulp and Paper Research Journal, 18(4), 2003, p379-383
15. Gane, P. A. C., Ridgway, C. J. and Schoelkopf, J., "Absorption Rate and Volume Dependency on the Complexity of Porous Network Structures", Transport in Porous Media, 54(1), 2003, p79-106
16. Gane, P. A. C., Schoelkopf, J. and Matthews, G. P., "OFFSET INK TACK AND RHEOLOGY CORRELATION Part 1: Ink Rheology As a Function of Concentration", Tappi Journal, 2(6), 2003, p
17. Gane, P. A. C., Schoelkopf, J. and Matthews, G. P., "OFFSET INK TACK AND RHEOLOGY CORRELATION Part 2: Determining in Real Time the Solids Content of Ink-on-Paper Using the Ink Tack Force-Time Integral", Tappi Journal, 2(7), 2003, p
18. Schoelkopf, J. and Gane, P. A. C., "Offset Ink Concentration Profile During Vehicle Imbibition into Coated Paper - Proposing a Viscous Gradient Model", Tappi Journal, 2(8), 2003, p18
19. Schoelkopf, J., Gane, P. A. C., Ridgway, C. J., Spielmann, D. C. and Matthews, G. P., "Imbibition Behaviour of Offset Inks: I Gravimetric Determination of the Imbibition Rate of Oil into Pigmented Coating Structures", Tappi Journal, 2(6), 2003, p9-13
20. Schoelkopf, J., Gane, P. A. C., Ridgway, C. J., Spielmann, D. C. and Matthews, G. P., "Imbibition Behaviour of Offset Inks: II Gravimetric Determination of Vehicle Separation Rate into Pigmented Coating Structures", Tappi Journal, 2(7), 2003, p19-23
21. Gane, P. A. C., Kozlik, T., and Schoelkopf, J., "PRINT RUB DETERMINATION: a novel laboratory method to simulate practice", 2004, p
22. Lehtinen, E., Ridgway, C. J., Valiullin, R., Schoelkopf, J., Furo, I., Gane, P. A. C., Paulapuro, H., and Daicic, J., "On the Comparison of NMR Cryo-Porometry, Mercury Intrusion Porosimetry and DSC Thermoporosimetry in Characterizing Pore Size Distributions of Compressed Fine Ground Calcium Carbonate Structures", 5th International Paper and Coating Chemistry Symposium, Montreal Canada (June 16-19), 2003, p
23. Ridgway, C. J., Gane, P. A. C. and Schoelkopf, J., "Modified Calcium Carbonate Coatings With Rapid Absorption and Extensive Liquid Uptake Capacity", Colloids and Surfaces A, 236(1-3), 2004, p91-102
24. Ridgway, C. J., Gane, P. A. C., and Schoelkopf, J., "Modified Calcium Carbonate Coatings with Rapid Absorption and Extensive Liquid Uptake Capacity: decoupling capillarity and permeability", International Printing and Graphic Arts Conference, Vancouver, Canada, PAPTAC, Montreal, 2004, p
25. Schoelkopf, J., Gane, P. A. C. and Ridgway, C. J., "A Comparison of the Various Liquid Interaction Radii Derived From Experiment and Network Modelling of Porous Pigmented Structures", Colloids and Surfaces A, 2004, p
26. Guera, N., Schoelkopf, J., Gane, P. A. C., Hunziker, P. and Rauatma, I., "A Review of Talc Use to Prevent Pitch and Stickies Deposition in Papermaking", in preparation, 2004, p
27. Guera, N., Schoelkopf, J., Gane, P. A. C. and Rauatma, I., "An Experimental Review of Pitch Deposition Methods Using an Agitator", in preparation, 2004, p
28. Guera, N., Schoelkopf, J., Gane, P. A. C. and Rauatma, I., "Comparing Colloidal Pitch to Adsorption on Different Talcs", submitted to Nordic Pulp and Paper rersearch Journal 2004
29. Schoelkopf, J., Gane, P. A. C. and Ridgway, C. J., "Observed Non-Linearity of Darcy Permeability in Compacted Fine Pigment Structures", Colloids and Surfaces A: Physicochemical and Engineering Aspects, 236(1-3), 2004, p111-120
30. Schoelkopf, J. and Gane, P. A. C., "The Moment Ink Contacts the Surface: A Fresh Look at the Absorption Dynamic into Coated Papers", ipw, das Papier, 2004, p36-42
31. Laudone, G. M., Matthews, G. P., Gane, P. A. C., Matthews, A. G., Ridgway, C. J., Schoelkopf, J. and Huggett, S. A., "Estimation of Representative Particle Sizes in Sand and Compacted Blocks of Ground Calcium Carbonate Using a Void Network Model", Colloids and Surfaces A, 2004, p
32. Laudone, G. M., Matthews, G. P., Gane, P. A. C., Ridgway, C. J. and Schoelkopf, J., "Estimation of the Effective Particle Sizes Within a Paper Coating Layer Using a Void Network Model", Colloids and Surfaces, 2004, p
33. Ridgway, C. J., Gane, P. A. C., and Schoelkopf, J., "Achieving Rapid Absorption and Extensive Liquid Uptake Capacity in Porous Structures by Decoupling Capillarity and Permeability: Modelling of nanoporous modified calcium carbonate", XIIIth Fundamental Research Symposium, FRC, The Pulp and Paper Fundamental Research Society, Bury, U.K., 2005, p